On his most recent yard sale adventure, my sweet husband came back bearing gifts for me. He found something I've always wanted - a vintage typewriter! He found this vintage (I'm thinking 1950s) Smith Corona typewriter with carrying case over the weekend. The lady even gave him a few boxes of typing paper. Although, I'm not sure one could even find a replacement ribbon (remember those?!) these days! I have the typewriter displayed on a small table in our
living room
, since that's where our roll top desk is also located. I would love, love to find another vintage typewriter for my office at work!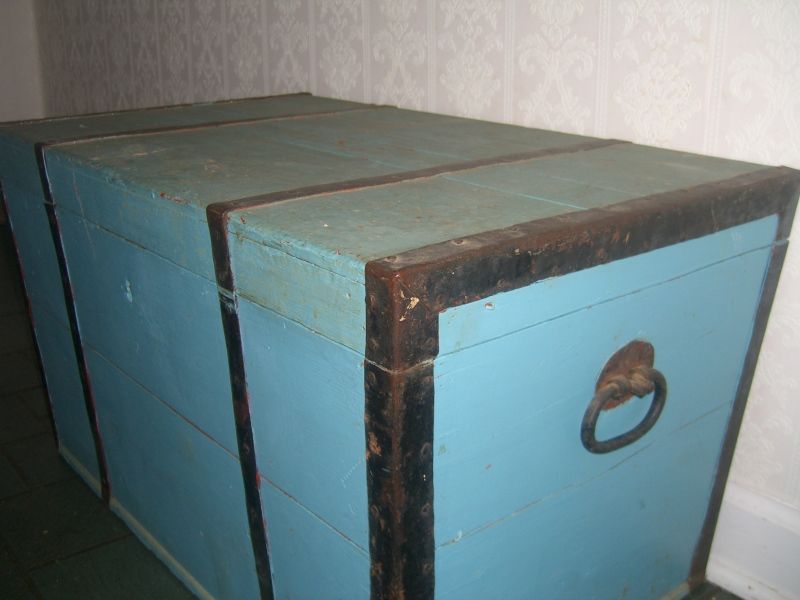 In addition to the typewriter, he also found this old, wooden trunk already painted my favorite color! I plan on cleaning it up a bit, maybe distressing it a little more. I'm envisioning some French type image (like
this
) transferred or painted on the top with hardware added to the front. The trunk is currently in our foyer, as I'm attempting to brighten the space with colorful pieces. The foyer walls are painted a Merlot color, which I loved at the time we painted it - and still do. But, there's so little light coming into the foyer, the space just looks too dark. Like a cave. And not very welcoming! I want to go neutral with the wall color and bring in more colorful accents. At least that's the plan in my head!
What have you found at yard sales recently?