Introducing NADIA!
BEFORE
Much to my husband's delight, I finally finished this trash to treasure dresser project and cleared up some needed space underneath our garage! Before it was just a your average three drawer wooden dresser.
AFTER
But this ordinary dresser was transformed with a coat (several actually!) of eye-poppin', high gloss cherry
RED
!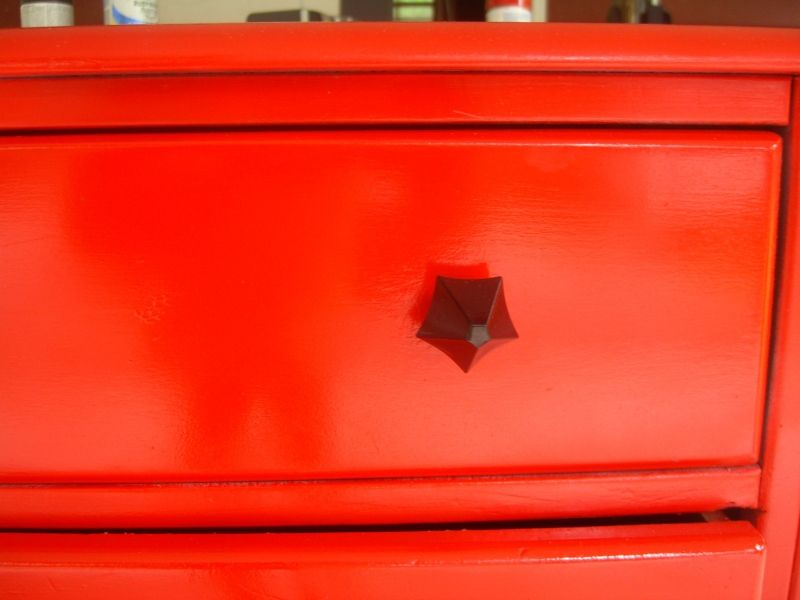 I also replaced the original hardware with these cute black drawer pulls from Michael's (found on clearance!).
Since we're not currently in need of a dresser, I listed it on Craigslist to see if there would be any interest. After a "just looking" visit and several emails expressing interest but with no follow up, we finally found Nadia a new home! I love color, so I think it just took a little time to find another kindred spirit that appreciated bold colors too. Though for my next project, I will probably go with something more neutral.
Dave and I have painted numerous pieces of furniture for our home. But, it's been only recently that I've given thought to turning this hobby into a viable income generating stream. It would certainly be nice to earn a little extra for savings without having to take on more work outside of the home. And since any income would be extra, there wouldn't be much pressure or risk of turning something I love to do into to something I hate!
To refine my painting skills, I've been reading the informative ebook offered at
Altar'd - Paint Your Furniture
. I can't wait to apply what I've learned to my next project!
Mary Ellen