BEFORE
Inspired by
Brooke at All Things Thrifty
, I decided to take the plunge into glazing. My first attempt was this trash to treasure chair Dave found. The cushion was dirty (made even moreso by our cats sleeping on it) but the chair itself was in good shape.
AFTER
And here she is now! I went back and forth on a color for the longest, but decided to go with Rust-Oleum Aqua in a satin finish. For the glaze, I used Ralph Lauren as Brooke recommends in her
Glazing 101 tips
.
Detail on the chair
I covered the cushion with a damask fabric from Jo-Ann Fabrics. With help from my Mom, who knows all things fabric - thanks Momma!
After I placed the finished chair in the dining room, my attention was drawn to my trash to treasure mirror hanging over the dresser next to the chair. It seemed to blend into the wall. It needed some color.
BEFORE
So I took out the spray paint and glaze and went to work!
AFTER
Here is the mirror with its new color and glazed finish!
Thanks for stopping by!
I'm sharing these trash to treasure glaze makeovers with: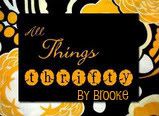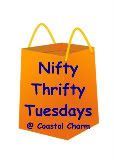 Brambleberry Cottage - Time Travel Thursday